You've seen the lists – "Best Places to Work," "Coolest Offices." Fortune, Inc. and even the Puget Sound Business Journal has its own version of office-related awards. Maybe you've browsed benefits, growing a bit green at in-office perks like catered lunches, rock climbing walls, onsite fitness, and luxurious rooftop lounges.
It's clear that the spaces where we spend our days are changing. Our engineers are a part of this change, collaborating with the design teams that imagine, design and build office spaces, and witnessing firsthand the evolution of workplace environments.
Offices aren't what they used to be. When thinking about office environments, the tendency is to consider "updated" and "open" synonymous, when in truth, we've been hearing client requests for open, modern spaces for more than a decade. Instead, more significant is the approach to office spaces overall. Recent years have seen an almost philosophical shift in how we view working environments and life at the office. The latest spaces we're designing complement modern corporate cultures and require that, as a design team, we understand end-user goals.
What are those goals? Put simply, organizations are asking more from their spaces, leveraging them to:
1. ATTRACT AND RETAIN TOP-TIER TALENT
2. INCREASE WORK EFFICIENCY + INSPIRE COLLABORATION
3. SHAPE BRAND IDENTITIES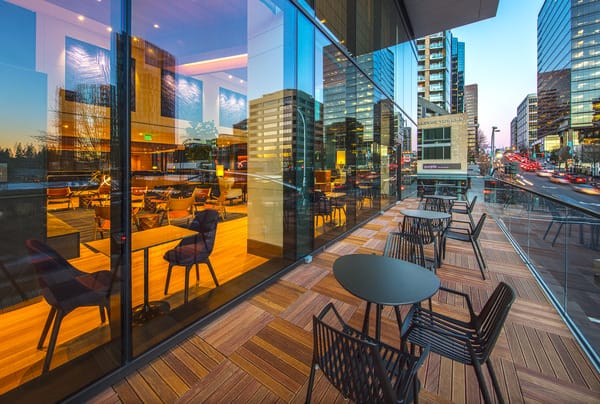 Centre 425 in Bellevue, WA | Image by: Michael Walmsley Photography, LLC 450 Alaskan | Hero image: 450 Alaskan Way by: Kevin Scott
Amenities, Amenities, Amenities. (Attract and retain top talent)
Rooftop terraces, conference centers, fitness studios, dog runs, landscaped patios and plazas – offering onsite amenities has become commonplace, an expectation even. Internally, amenities and benefits demonstrate that employers understand and care about their teams' needs. Amenities can shape day-to-day office life, and contribute greatly to recruitment and retention.
The amenity craze is more easily explained when we understand the relationship between amenities and corporate culture. Culture matters more than ever. It's a top priority to recruits and brands alike. In many ways, amenities reflect a company's culture, and today's workforce wants to do meaningful work in an environment that challenges them, excites them and is a cultural fit.
This amenity-packed mentality extends to residential buildings as well. Following the same logic, owners and developers understand the need to create differentiated residences that offer unique draws to residents. In both cases, our designs emphasize flexibility, ensuring amenities of all kinds can be supported.
Hybrid Spaces (Increase work efficiency + inspire collaboration)
While amenities become more and more extreme, owners aren't forgetting the reason employees are there in the first place: to work. One of the biggest shifts in recent office designs is the rethinking of open floor plans. With collaboration and teamwork in mind, many companies opted for open layouts with seating arranged in pods. However, as studies continue to reveal, these all-open designs are not actually practical, nor do they lead to best-possible workflow or efficiency. Today's layouts are more balanced, as open plans are tempered with a variety of multi-functional spaces, from networking areas and pods, to private spaces and independent work rooms. Collaboration and teamwork remain priorities, but "hybrid" offices encourage teamwork while still allowing employees to concentrate and work independently when necessary.
Beyond layouts, centerpiece spaces like kitchens and lounge-like lobbies elevate designs and make offices feel like anything but. These centerpieces not only create design focal points and opportunities for custom pieces, but serve as gathering spaces to foster camaraderie and collaboration. The design challenge: create a practical workspace that doesn't look or feel like an office.
Microsoft in Redmond, WA | Image by: Garrett Rowland Photography LLC
FAA Northwest Mountain Region Regional Office | Image by: Benjamin Benschneider
Custom at a Premium (shape brand identities)
Once upon a time, a bike rack defined an office as progressive. Today, that's not near enough. Regardless of industry, companies are expected to behave like brands, not just corporations. Modern audiences, both internal and external, demand much from brands, and put personality and uniqueness at a premium.
An office environment helps shape a brand's identity in the market, setting it apart from competition and providing another touchpoint by which to communicate culture and brand personality. Workspaces communicate messages about the team and brand – who they are, what they value, how they think. These identity-centric messages aren't reserved for the occasional office visitor, they are essential to the internal team. A well-designed office space demonstrates that the organization values their employees and is actively encouraging them to think creatively, find work/life balance, and support the organization's mission.
The evolution of office infrastructure and design is paralleled by a shift in office culture overall. There's a direct relationship between an organization's philosophy about culture ("Our culture is a sure differentiator.") and the type of space they identify as a fit, ("This space is so "us!"). Whether client, developer, brand or architect, it's important that our team honors and elevates creative visions,
Evolving Offices, Evolving Designs. (What this means for AEC)
The evolution of workplace environment directly impacts our designs and the way we approach engineering for offices. Proactivity has never been so important. We're careful to communicate implications that accompany complicated, ambitious designs, and during our collaboration with developers and owners, we understand the importance of asking key questions:
Should we set aside space for a centerpiece element? Should we provide additional load capacity as a bank for the TI to withdraw from? Are we making best-possible use of the rooftop space? Will the company be expanding or using the space differently in five, 10 or 20 years? After all, asking the right questions helps the team unite their visions, and minimizes change orders and costs.
Creating an effective office environment is no longer limited to a specific layout or floor plan. Design scopes go beyond traditional shell and core, and as engineers, we're considering the implications of potential tenant improvement requests before they've even been realized. We're seeing more and more ambitious TI programs that impact shell and core and regularly find ways to accommodate requests within tight permitting and construction timelines. Often, designs extend beyond a single building. In Seattle, Amazon.com is a perfect example of a brand establishing an extensive urban campus. As a design team, we knew the importance of recognizing the impact and influence a giant like Amazon has in a neighborhood. In Amazon's case, they've honorably prioritized pedestrian-friendly streetscapes, street-level amenities, and being long-term good neighbors in South Lake Union.
Within office walls, our designs have changed too. Clients prioritize uniqueness and architects face the charge of creating office spaces that don't feel like office spaces. We love working with forward-thinking clients and architects, and this new generation of office design inspires us. In it, we're driven to identify unique solutions, design interesting feature pieces, and ultimately, become better engineers.