This article was originally published in the Daily Journal of Commerce on February 7, 2017.  See original here. 
The city of Seattle plans to start construction in late March on the 1.7-acre Yesler Park at Yesler Way and Broadway on First Hill.
It is evaluating five bids it received this week from contractors for the park, which is slated to open in summer of 2018.
The park will overlook Puget Sound and downtown Seattle, with a fountain play area, small soccer spot, large open field, playground, restroom, public plaza and a grand pedestrian spine stepping down the middle of the sloping site to South Washington Street.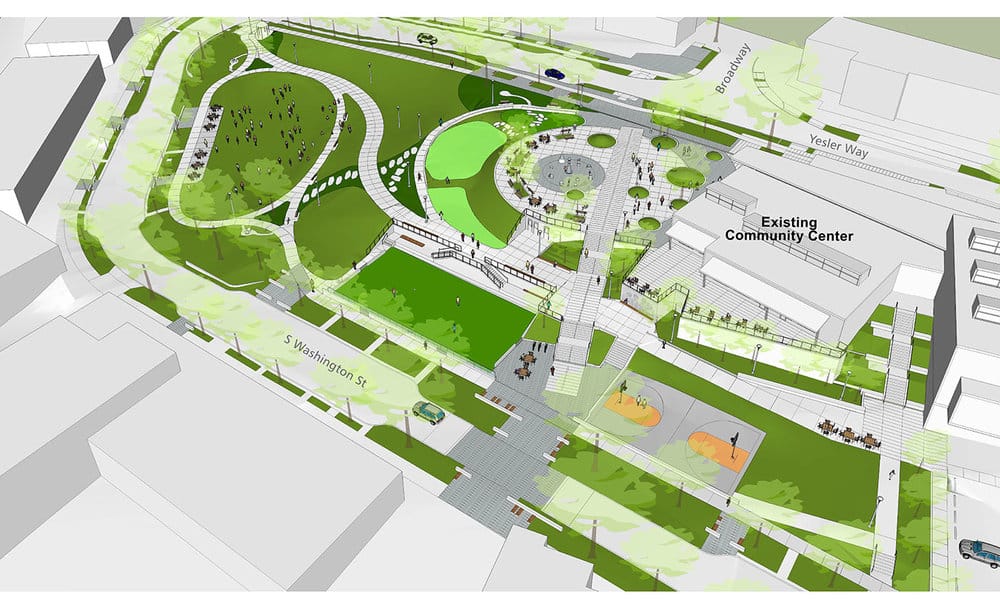 Rendering Courtesy of SiteWorkshop
Toby Ressler, a project manager with Seattle Parks and Recreation, said it will provide more open space for the Yesler Terrace community and could be used for weekend events or farmers markets.
The city is going through a process to name the park, which will be adjacent to a community center operated by Seattle Parks and Recreation.
SiteWorkshop is the landscape architect, and it collaborated with artist Christine Bourdette on the fountain and other sculptures in the park.
The team also includes Enginuity Systems, mechanical engineer; Gerber Engineering, electrical engineer; LPD Engineering, civil engineer; Lund Opsahl, structural engineer; and SHKS Architects, architect.
Natalie Ross, a landscape architect with SiteWorkshop, said this will be a fairly big park for downtown Seattle. Having a mix of both play and quiet spaces should appeal to Yesler Terrace residents and others who live and work in the area, including at the First Hill hospitals, she said.
Ross said a lot of affordable and market-rate housing is being built around the park on Yesler Way, the Broadway corridor and South Washington Street.
"It's going to be a fairly high density place," she said, and the park will be an asset to the community.
To take advantage of the site's unique 25-foot grade, the playground will have a slope for people to climb or slide down, and play equipment that straddles the grade change, including a tower with a slide.
There will also be a walking loop, which Ross said should be popular with older people in the neighborhood.
The budget for Yesler Park is $4.6 million, of which $3 million is from the 2008 Parks and Green Spaces Levy.
Other funding is from Seattle Housing Authority, a Washington Recreation Conservation Office Recreation grant, the RAVE Foundation, Stim Bullitt Park Excellence Fund, Wyncote Foundation and the Pendleton and Elisabeth Carey Miller Foundation.