We heard the buzz and had to go try it out for ourselves. The Holodome, Vulcan's shared immersive reality exhibit at MoPOP, is worth a visit.
We joined Technology Specialist Joel Hills on an adventure to MoPOP and were plunged into a transformative immersive reality experience free of headsets and with haptic feedback so intense, they warned us we may need to sit.
With difficulty, we decided which of the four presentations to experience, and entered the 20 x 20-foot dome eager and excited for what would happen next.
First, we viewed Death Planet Rescue, a sci-fi thriller that takes the audience on a rescue mission to a deadly planet with alien creatures so eerie, some closed their eyes.
Next, we found ourselves engulfed in a burning star, circling the outermost edges of the cosmos where we were sucked into the abyss of a black hole. The sound and haptics were exhilarating — the stars and auroras looked so real, it felt like we could touch them. Songs of Infinity: Journey into a Black Hole was a group standout.
Finally, we tried Seahawks: The Art of the Play, a journey any die-hard Hawks fan needs to see. Doug Baldwin took us on a personal journey through his daily routine: from intense workouts at the practice facility, the detailed analysis of film reviews, and how he intricately strategizes plays based on each opponent, to the thrill of a game day huddle. We've all heard the infamous rumble of the 12th man at Century Link Stadium, but this experience places you on the field next to the referee as Wilson throws a signature Baldwin touchdown to the corner end zone. It felt real, like we were there.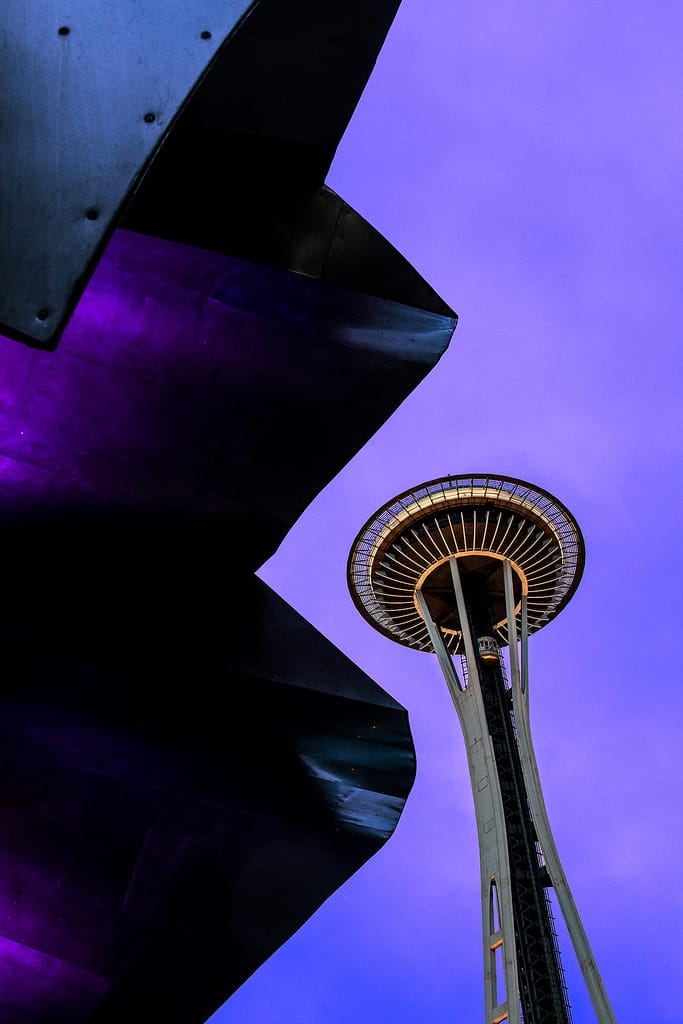 Image by: Mitchell Haindfield
"The future of Shared Immersive Reality is bright. The ability to travel, as a group, anywhere and experience the location as if you were there is really powerful," Joel reflects. He noted the visual precision created by rotating cameras above that projected the presentations into the 360-degree optics. They were void of shadows (something he imagined before the visit that would affect the experience). But no, the engineers had thought of everything! He was surprised and excited by the progress of the Holodome's technology. "I expect to see this technology expand into the VR/AR market. It's less intrusive than putting on a headset and earphones."
That in itself made the experience worthwhile: to participate as a group without the bulky headset or earphones. "While there are advancements to be made, you can see where this technology is headed and it's thrilling to be a part of the journey."
Allow plenty of time to check out the other exhibits at MoPOP. We recommend the new Marvel Universe of Super Heroes Exhibition which features over 300 original artifacts (costumes, props, and artwork) spanning 80 years of superhero comics and films. Give yourself at least half a day (a full day ideally) to explore the museum in full. You'll also want to visit other unique Seattle Center attractions including the Space Needle, Pacific Science Center and the Chihuly Garden and Glass museum. Here's a list of neighboring restaurants to keep you fueled throughout your visit.
Learn more about Vulcan's Holodome by visiting: https://holodome360.com/
Hear more from Joel on how VR being integrated into the AEC industry: Understanding Virtual Reality (and Leveraging it for AEC)