Seattle is officially the "crane capital of the country," with the largest number of active construction cranes in the nation, triple that of New York City. Surprisingly, this total doesn't even account for the growth we're experiencing just ten miles east of the city, across Lake Washington. Urban development is an at all-time high, and not just in downtown Seattle.
Like Bellevue and Redmond, the city of Kirkland is emerging as an enticing alternative destination to downtown Seattle, catering to young professionals, families, and high-tech firms.  Currently in the works is the city's largest development to-date: Kirkland Urban. The site's sprawl is a staggering 1.2 million SF across 11.5 acres. Free from the restrictions and tight sites that typical urban development projects face, our team was able to design pedestrian-oriented, multi-level plazas to connect buildings. The development offers retail, office, residential and public amenity space.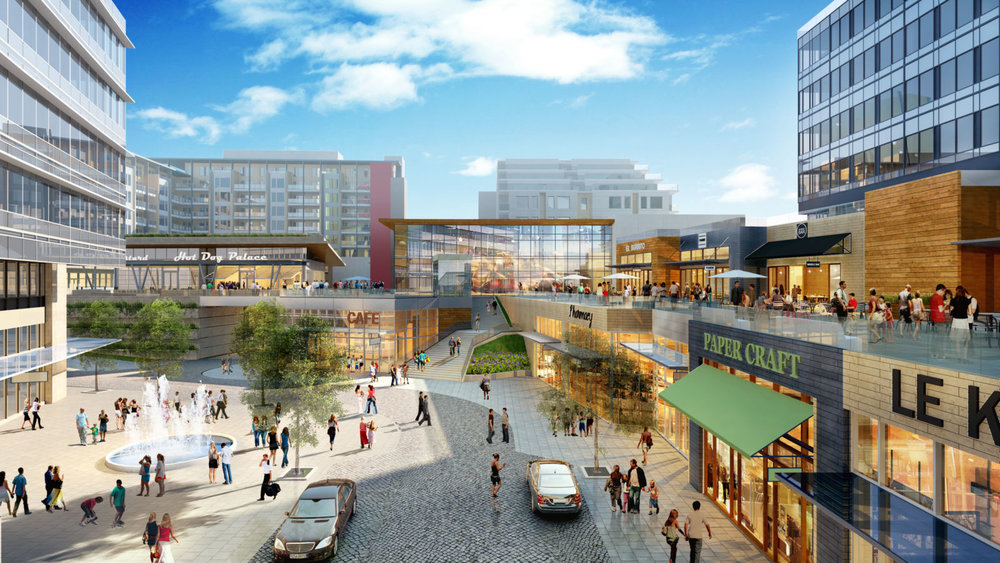 Renderings courtesy of KirklandUrban.com
The development will have a similar look and feel to The Landing in Renton. Designed around the notion of an "18-hour city," Kirkland Urban will rely on mixed-use configurations that provide a built-in communal feel. The mid-size metropolitan center will offer office space, amenities and housing in a single self-sustaining "mini-city", extending typical business hours beyond that of your average large city.  Two new office towers, 185 apartment units, retail space, including a new QFC grocery store, several restaurants, and a Movie Theater, will make up the complex. Local and regional tenants (such as Homegrown – a Coughlin Porter Lundeen office favorite) will be emphasized. Seventy five percent of the retail space is pre-leased.
This all-in-one setup and lifestyle has become a popular model for local developers who are pushing out of Seattle into the Eastside. Come 2019, the much-anticipated Kirkland Urban will be open to the public.
For more information visit: KirklandUrban.com