Protected: Meet our new PM's
Christen Sanders, P.E.
Project Manager
Christen understands that project-specific structural system design is critical to a client's success. She brings proficiency in mass timber, along with depth of experience in a variety of building materials and delivery methods. Christen's passion lies in the Pre K-12 sector, where she notes the uniqueness of the designs, diversity of building materials, and distinctive programming needs are both challenging and incredibly rewarding. 
Marie Ternes, P.E., S.E.
Project Manager
Marie chose structural engineering due to her desire to positively impact the cities and communities around her. With a strong work ethic and friendly demeanor, Marie enjoys watching her projects come to life. She is involved in local and national AEC organizations including Urban Land Institute's Young Leaders Board, ACE Mentor Program, and CREW.
How did you decide to become an engineer?
Christen: Art and math were my favorite subjects in school, but pursuing engineering didn't click until senior year of high school. My high school art teacher (whose son happened to be my math teacher/volleyball coach) saw how creative I was but knew that I loved math too. She's the one who suggested Oklahoma State University's Architectural Engineering program to me. I went to high school in the same town as OSU so the school and college are pretty intertwined. This seemed like the perfect opportunity to be creative and exercise those math skills. I later ended up interning at her brother's architectural firm in Phoenix. I owe a lot to Mrs. Webber!
Marie: My engineering "ah-ha" moment came at my very first internship. When I told my boss I wanted to pursue structural engineering, he responded with, "you're going to be designing sewers, you're not going to design buildings, there's no way." Instead of discouraging me, those comments became fuel. I knew that in fact, I would be working on buildings! And tall ones at that! I landed a place at Chicago's Skidmore Owings Merrill (SOM). They had just finished the Burj Khalifa, which is one of the tallest buildings in the world. My first full time job out of college was at SOM's New York office and my world just kind of blew up.
Q: Neither of you are originally from the West Coast. What brought you here? And how did you choose to build your career at Coughlin Porter Lundeen?
Christen: I'm from Texas originally, moved to Stillwater, Oklahoma as a freshman in high school and attended Oklahoma State University. I had never been to Washington but the idea of living near Seattle was intriguing and we were ready for a move. My husband Chris joined the Air Force, and when it came time for us to create our preferred list of bases, Lewis-McChord was number one.
During my search I connected with Cory Hitzemann. To be honest, I didn't feel I had the typical credentials, I was from the Midwest, I had an Architectural Engineering degree…but Coughlin Porter Lundeen was my top pick so I offered to start as an intern. Three months later I was full-time. Fast-forward eight years – here I am!
Marie: If you would have asked me as a Junior in college if I was ever going to leave Ann Arbor, Michigan, I would have said, no way. But after three years in New York (and long-distance with my now-husband), we moved to Seattle together. His career is in naval architecture designing boats and ferries and for that, there's nowhere better than Seattle!
Coughlin Porter Lundeen is a special place, and a rewarding place to build a career. There's a culture of encouragement – No one [at Coughlin Porter Lundeen] has ever told me I can't do something. I have been given platform, a runway, and that sense of autonomy and trust is empowering. (Marie spearheads our internal Women's Group and is organizing an ongoing chat series with GLY Why Not More Women: Work Life Balance and Building Partnerships.)
Q: What does it take to be successful in this role? And what would you say to others looking to advance their careers?
Christen: At Coughlin Porter Lundeen we have so much diversity in terms of project types and clientele. Every endeavor brings unique challenges and new opportunities. While my path was pretty linear, I was constantly being challenged to push myself. Seeking out and embracing that challenge would be my advice to those looking to advance their careers.
Additionally, it's important to find a firm you can grow with. As I've advanced, so has my confidence and my knowledge of engineering concepts. I'm excited to see how this new role continues to shape me professionally and personally. The project manager role requires leadership, management and mentorship. Strong collaboration is what it takes to be successful in this role. (I must admit, I do enjoy deep diving into calculations and problem solving with my trusty calculator and spreadsheets, so I'll make time for that too!)
Marie: It takes a number of years to develop into a project manager. It's a role you grow into – slowly adding responsibilities like overseeing other engineers' work, putting together drawings, orchestrating day-to-day teams. Two years ago, I was just starting to dip my toe into these things – now I'm doing it full on. Of course, there are always things to learn: we're constantly growing!
The biggest identifier of a project manager is being the person others turn to for help. My hope is that anybody can come to me with questions, whether they're working with me on a project or not. I believe there should be a diverse group of people in leadership so that everyone has someone to identify with or feel supported by. To those looking to advance their careers, I'd say find that mentor that you connect with. And make sure you're not pursuing advancement for the sake of advancement. Ultimately, I want to feel good about the work that I put into the world, and I want people that I work with to feel the same.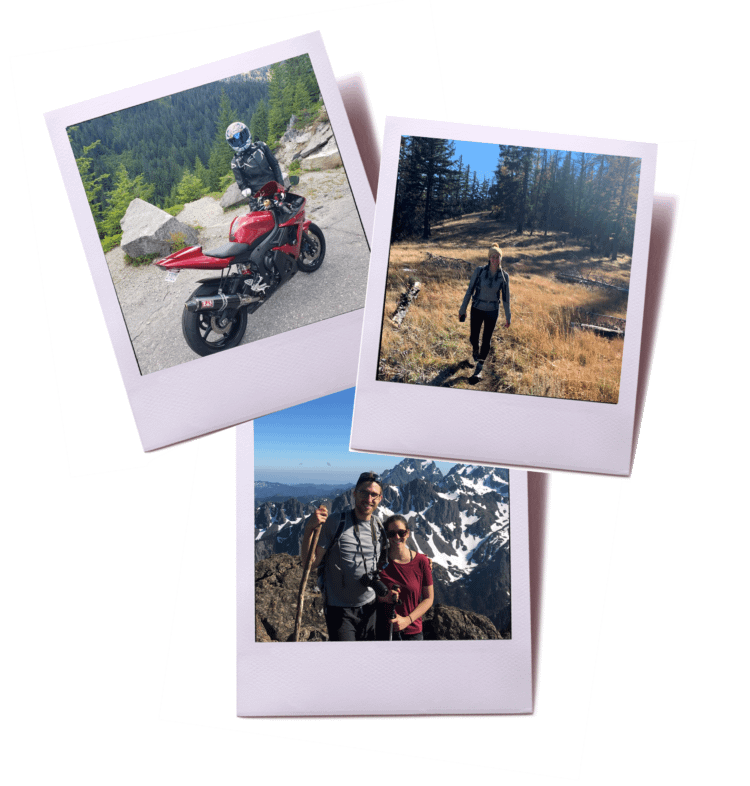 Q: This edition, our primary article speaks to the value of hobbies and out-of-office pursuits. What do you do outside of work? What do you do to unwind?
Christen: Pre-Covid, I loved exploring the area. There is so much going on in the Pacific Northwest – snowboarding, long boarding, taking a motorcycle ride (on her '07 Yamaha R6s – yes, she's very cool). You need multiple lifetimes to see it all! Post-Covid my routine is slowing and features lots of yoga, walks and workouts. Reading too! And I recently picked up the Xbox control again.
I'm a problem solver at heart, so if there's something I can't figure out, I have a hard time letting it go when I leave the office. All these activities help clear my brain.
Marie: Hiking! One of the things I've come to love about the Pacific Northwest is the easy access to the mountains and trails. When I first relocated, I asked Elliot (Smith), who I sat next to, what he and his S/O did on weekends. Coming from New York, I thought he was going to say, "Oh, like this neighborhood is really fun or there's really good restaurants over there, really good bar here." He just looked at me and responded matter-a-factly: "I ski". Got it. There's a level of athleticism out here that gets really intense, really fast. Like, Yuting (Ci) summits Mount Rainier! It's exciting and contagious.
I've seen you and others, like Principal Cory Hitzemann, running early in the mornings. Have you ever raced?
Marie: We tried racing one time. Cory beat me…but he definitely pulled a muscle. And we weren't that far off!
I've been running since college and I've gotten into a really good habit of either running or going for a walk every single day before work. It's very meditative and it helps clear my mind. I feel very good on days that I run, though not necessarily while I'm running.
Q: Do you have a favorite project?
Christen: I would say WSU PACCAR Environmental Technology Building. Early in my career, I had the opportunity to help engineer the showcase piece of this building, the heavy timber component. I attended the ribbon cutting ceremony alongside Jim Coughlin and Matt Snook. Not only did I get to celebrate the final project, but I met several of the passionate people involved in its creation. That experience was really eye opening and made me love what I do even more.
Marie: A current project, Vulcan West Main, is always going to have a special place in my heart. It's the first project that I've been fully immersed in from the start. Through it, my role has transformed from a project engineer to project manager. I've put so much of myself into it and it's a huge opportunity. It's three towers over a half-block in Bellevue. I've made it my goal from the beginning to bring a coordinated level of organization to this project. If something is not clear to me, it's not going to be clear to anyone else. I have been given an opportunity to thrive in this role and I feel proud of the work and how smooth it's gone so far. GLY Construction and Graphite Design Group are always great to work with!
Q: As you reflect on your path thus far, how do you think companies and individuals can support future generations of engineers? 
Christen: I think it's critical to understand that no career path is the same. Our professional development is as unique as we are! Beyond the project experience itself (diverse markets, clientele, design challenges) we're also balancing many different personality types and approaches. It's tempting to create a rigid roadmap for career advancement, but allowing wiggle room and empowering individuals to define their own path is important. And will result in happier, more fulfilled employees!
At the same time, this doesn't mean a company should be hands-off. Young employees should lean on their organization and mentors to gain varied experience, refine interests, and set goals. The phrase "The whole is only as good as the sum of the parts" rings true here.
Marie: When I was a new engineer, I thought I wanted to design the tallest buildings in the world. What I realize now is that what I actually wanted was to contribute to meaningful projects in the city I live in. I think this is why projects like the State Hotel really resonate with me. As cities grow, there are so many big glass boxes that go up and they seem a bit disconnected from everything. But the State Hotel was so well executed – it feels new, but fit seamlessly into the fabric of the city.
If I were to give advice to someone younger than me, I would tell them to keep an open mind. You might think you know what you want, but you might end up liking something totally different, and that's okay. Also, say yes! It's amazing what you can do by accepting opportunities that come your way. This philosophy has allowed me to work on so many different project types, and that's important to do when you're starting out, navigating your path, and figuring out where your passions lie.