Leading the Charge in Mass Timber
A pioneer in the Pacific Northwest, Coughlin Porter Lundeen understands mass timber and has been at the forefront of the movement for more than two decades.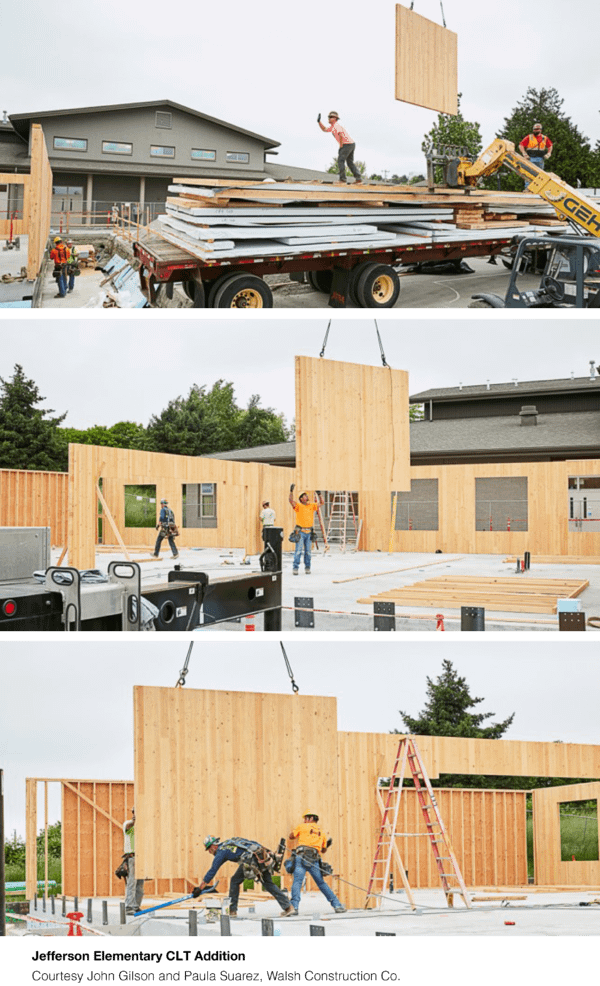 Early Adopters
Since learning about mass timber in the early 2000s (at the World Timber Symposium in Portland!), we've been paying attention. Captivated by the incredible mass timber projects going up in Europe, we couldn't wait to catch up.
Our passion for mass timber isn't manufactured. We love the design possibilities mass timber presents, and believe in its merits as a material, sustainable option, and economic influence.
R+D Pioneers
Years ago, as it gained traction in Canada, we were getting our hands on CLT design manuals (converting them out of the metric system), and learning all we could. We began taking the limited information that was available and making it usable. We started writing our own design aids, conducting studies, exploring topics (what does a CLT shear wall look like?), even partnering with Mahlum Architects and Walsh Construction to publish the first case study in the Northwest about CLT.
Things snowballed. We were invited to do presentations, serve as experts on symposium panels, participate in workshops at the American Wood Counsel, influence research recommendations to the USDA, shape the national conversation around mass timber and research and code, and of course, field mass timber opportunities that came to Coughlin Porter Lundeen.
Today: Leaders, Experts, Advocates
We've moved from early adopters, to R+D pioneers, to modern-day advocates. A few ways we lead, educate and advocate:
Becoming masters in mass timber
We've become true experts, understanding how every bit of wood performs, how the systems and material behave, and even how structures respond to fire and catastrophes.
Understanding the big picture
We wouldn't feel right advocating for mass timber without understanding the big picture – the market, the nuances of supply chains, the environmental impacts – are all important pieces of the mass timber puzzle.
Sharing our knowledge
We regularly give educational presentations to our industry peers and partners, everything from CLT 101 to what new building code means for current projects. We're also committed to sharing thought leadership, whether writing about mass timber or serving as panelists.
Making mass timber mainstream
It's one thing to create mass timber designs, it's another to get them built. By working directly with jurisdictions, we're seeing more and more mass timber construction. We've been extraordinarily successful giving presentations to the city showing equivalency with building codes. 
Investing in the mass timber community
Here in Seattle, we co-chair AIA Seattle's Mass Timber Committee. We pursue education, attending conferences and workshops and are committed to continuing the mass timber conversation.
Keeping ourselves sharp
Our internal task force group makes sure Coughlin Porter Lundeen stays on the cutting edge. We continue to read, research, listen and design creatively. Most importantly, we partner with forward-thinking clients and partners who are making a difference with exceptional mass timber work.
Explore articles written by our team including:
Exploring the Benefits of Mass Timber
Project teams are pursuing sustainable builds, evaluating alternative materials, construction practices, and environmental impacts. How to leverage mass timber and be a part of this new category of builds.
The Latest PNW Code Updates
In a Q+A, our in-house experts help break down some of the most important code changes in the region, summarizing the new requirements, providing insights into how these changes will affect the industry, and recommending how our AEC partners can be prepared.
Five Keys to a Successful CLT Project
What makes a CLT project different from a traditional one? And how can you help ensure the team's success? We've assembled our five key recommendations to help teams achieve a successful CLT project and a smooth overall process.
Cross-Laminated Timber
How CLT, the most innovative wood material on the market, is gaining momentum in the Pacific Northwest.
Wood is Making a Comeback
More builders are choosing timber for offices, apartments and campus buildings, rather than the concrete and steel that dominated construction for decades.